THE MOST ADVANCED SNORKELLING MASK.
No More Breathing In Water with our Float Ball Technology.
No Water inside the mask!
Our NEW Pinch Your Nose & Equalise full face masks include a watertight silicone seal.
Moreover, to prevent you from having a wet face or freaking out, we've included fully adjustable straps for a better matching on your face and a one-way drain system at the bottom of the snorkel mask.
This way, when water comes into your mask it automatically drains back out when you surface or tilt your head back. 
ANTI-LEAK with TIGHT, PERFECT SEAL
STOP THE WATER FROM GETTING IN with Triple Layer Anti-Leak Silicone Seal
The full-face snorkel mask includes a durable silicone insert that creates a watertight seal to keep water out of your mask and in the ocean where it belongs.
The seal is comfy enough to keep you snorkeling all day without feeling a drop of water on your face, and in case water does somehow find its way in, it'll just drain back out through the chin valve when you tilt your head back.
180° FIELD OF VISION with NO FOGGING
Enjoy a crystal clear view of the underwater world (20% more than any other mask)
With a 180° lens, your viewing area is expanded by 20% more than a regular full-face mask.
That means wider views, better peripheral vision, and more sea life to take in.
And to help ease fogging – one of the biggest snorkeling pet peeves.
The innovative design of our mask includes an additional breathing chamber that has twice the ventilation of any other regular mask.
Twice the ventilation means more fresh airflow, which means less fogging.
It's kind of like that fan in your car that helps defog the windows.
SOME OTHER COOL FEATURES
MEASUREMENT GUIDELINES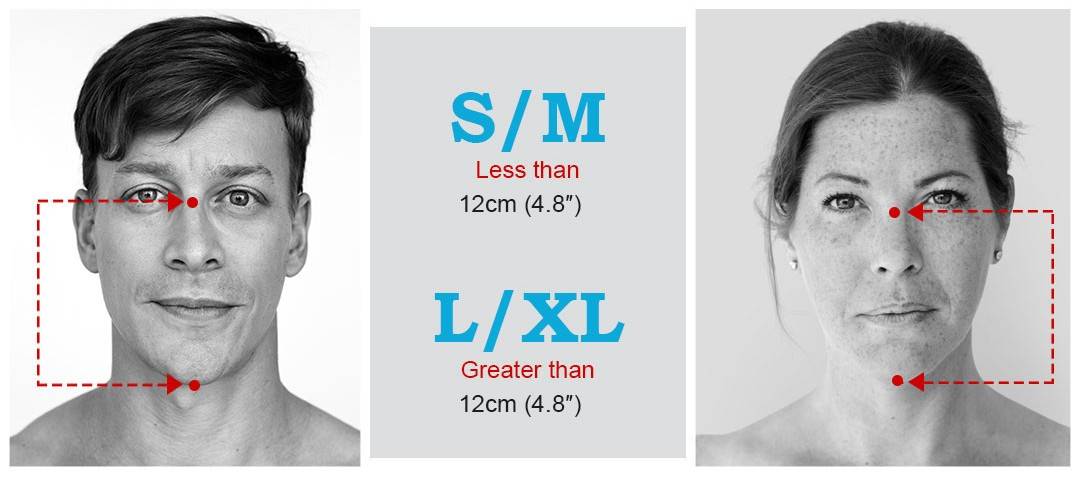 IMPORTANT! Measure in a straight line and NOT over the nose!
Step 1: Measure your face with your mouth closed, measure from the bridge of your nose (or eye-pupil level) to the bottom of your chin.
Step 2: If the measurement is less than 12cm, select S/M
Step 3: If the measurement is greater than 12cm, select L/XL
Note: This is also a good fit for children older than 12 years old.